Railways to bring back Kulhads
As per a circular issued by the board to the chief commercial managers, Railway Minister Piyush Goyal has opted to use terracotta-made 'kulhads', glasses and plates at Varanasi and Rae Bareli stations.
This will give a huge boost to local potters, who are struggling financially.
The proposal had come in December last year from the chairman of Khadi and Village Industries Commission (KVIC) who had written a letter to Goyal, suggesting that these two stations be used to generate employment for potters around the area.
"We have been giving potters electric wheels which have increased their productivity from making 100 cups to around 600 cups a day. It was important to give them a market to sell their wares and generate income. With the railways agreeing to our proposal, lakhs of potters have now got a readymade market," said KVIC Chairman V K Saxena as per PTI.
"It's a win for all. The entire community is thankful to the railways and hopefully we can do this across its network eventually," he said, adding that he is expecting the daily production of pottery to reach 2.5 lakh to meet the demands of these two stations.
Under the Kumhar Sashaktikaran Yojana, the government has been distributing electric wheels to potters to increase their productivity.
In 2004, Lalu Prasad had introduced 'kulhads' to boost the dying pottery industry and also give passengers a taste of eco-friendly cups. At that time, efforts of the railways did not get much traction from both passengers and vendors who complained about the poor quality of earthen cups.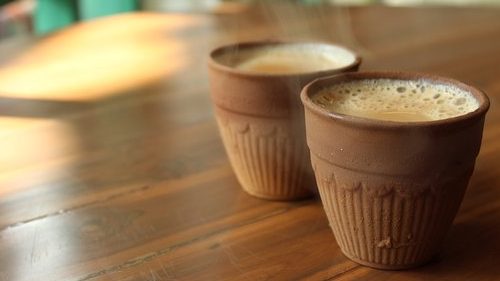 Kulhad chai | CommonsText Size: A- A+
ThePrint's Yo